Industrial Catwalk Stair Configuration
Industrial catwalk stairs provide safe access to elevated and hard-to-reach areas. Whether your workers need to access valves or equipment, our catwalks will get them where they need to be.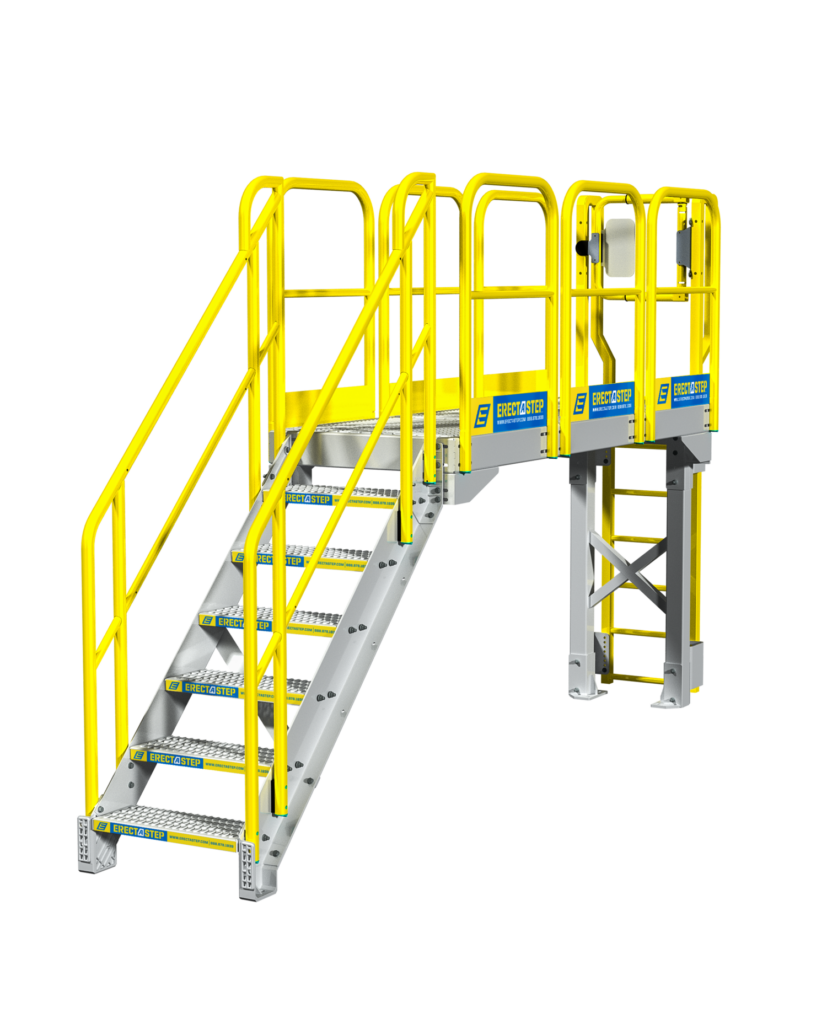 Our industrial catwalk is easy to assemble. Using our modular components, no welding or fabrication is required to construct your industrial stair system. This product includes the following components:
3x Universal Platform: Stamped for a positive-traction walk surface, each platform is constructed from durable aluminum. Units have common bolt hole patterns for stairs, other platforms, and handrails.
7x Handrails: Each has universal nut-plate inserts, and are prefabricated to fit a 36″ (914mm) side of our modular platform. The pipe construction handrails are powder coated and made from aluminum.
1x Metal Stairs (6-step): 6-Step stairs are designed to be connected together. Units have a platform surface of 63″ (1600mm), and platform clearance at 57″ (1448mm). 26″ (660mm) stamped positive-traction surfaces are prefabricated to fit any side of our platforms.
1x Tower Support (6-step): 6-Step tower units can be connected together. There are three options: single tower with single platform, two platforms with one tower between, or tower supports on multiple sides of a platform.
---
ErectaStep 5 modular components give you unlimited configurations and save on engineering and custom fabrications. Stairs quickly configure to gain safe access over pipes, dike walls, or other obstructions. Three platforms can be bolted together in a series without tower supports, providing up to 9′ (2743mm) of linear clearance. Need additional clearance? 4 platforms can be bolted together by simply adding tower support at the 9′ mark (2743mm) and tower support at each end. To design, simply measure your height clearance required, your length clearance, and download the catalog to refer to the chart for which stair model will best suit your needs.
With our 5 components; Metal Steps, Work Platforms, Industrial Handrails, Metal Ladders and Tower Support, our stairs can configure for nearly any industrial, warehouse or manufacturer scenarios.
Please call us with any questions about your design. Our experienced customer service representatives are ready to help you with sizes and specifications.